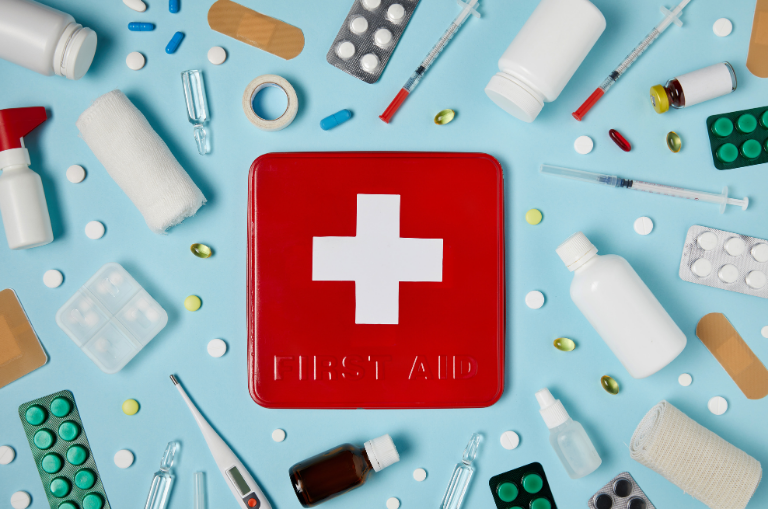 First Aid can potentially be the difference between life and death – which is why being in the know-how is so important. Are you a First Aider in your workplace? Or maybe you'd like to be? Here, we share some of the most basic but vital guidance from Qualsafe.
Firstly, whenever you can, try to assist the casualty from a safe distance – this helps to minimise the time you share a breathing zone. If they are capable, tell them to do things for you, but treating the casualty properly should be your first concern.
Next, when teaching our training courses, we always tell the delegates to remember the same thing: the 3P model – 1. preserve life, 2. prevent worsening and 3. promote recovery.
Preserve life: CPR
Call 999 immediately – tell the call handler if the patient has any COVID-19 symptoms.
Ask for help – if a portable defibrillator is available, ask for it.
Before starting CPR, to minimise transmission risk, use a cloth or towel to cover the patient's mouth and nose, while still permitting breathing to restart following successful resuscitation.
If available, use a fluid-repellent surgical mask, disposable gloves, eye protection, apron or other suitable covering and only deliver CPR by chest compressions and use a defibrillator – don't do rescue breaths.

Prevent worsening, promote recovery: all other injuries or illnesses
If you suspect a serious illness or injury, call 999 immediately – tell the call handler if the patient has any COVID-19 symptoms.
If giving first aid to someone, you should use the recommended equipment listed above if it is available.
You should minimise the time you share a breathing zone with the casualty and direct them to do things for you where possible.
Last but not least, after delivering any First Aid, always ensure you safely discard disposable items and clean reusable ones thoroughly. Also, always wash your hands with soap and water or an alcohol-based hand sanitiser as soon as possible – something we should be more than familiar with these days!
At EP Risk Consultancy, we offer various training courses dependant on your needs. Our courses ensure that the training and qualifications of First Aiders in the workplace meets the required standards set-out in the Health & Safety Executive (HSE) First Aid legislation.
Our most popular course, First Aid at Work prepares workplace First Aiders – and for those needing a more in-depth coverage, we also offer Emergency First Aid at Work.
Already know your stuff but your certification is about to expire? We run a First Aid At Work Refresher course. However, if you're working with littles ones and require more specialist knowledge, our Paediatric First Aid course might be for you.
If you'd like to find out more about our training courses, please don't hesitate to get in touch.